Ali Callahan, RYT200
Executive Director of the Wilmington Yoga Center, Ali has been practicing yoga since 2000 when she took her first therapeutic class. She joined her mother who was in recovery from breast cancer, and was instantly hooked on a practice that can benefit both your body and your mind. After completing her MA in Health Arts & Sciences at Goddard College, Ali decided she wanted to take her practice to the next level and embarked on her yogic journey. Ali graduated from the Evolve Yoga Teacher Training at Porter's Neck Yoga Spa in 2011, and immediately began her 500-hour Kunga Yoga certification from the Wilmington Yoga Center where she has taken modules in Ayurveda with Hilary Garivaltis, Non-Violent Communication with Elizabeth Banner and Gentle Yoga and Meditation with Donna Gardner. Most recently she completed her Professional Kunga Yoga Leader Apprenticeship under Kristin Cooper. Her influential teachers include Kristin Cooper, Kas Mueller, Noelle Cavenaugh, and Katherine Isben.
Allison Lloyd, RYT200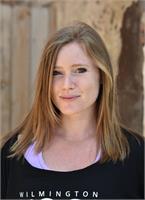 Allison Lloyd received her 220-hour Kunga Yoga Certification after a 3 week immersion during the summer 2014 teacher training. Her journey with yoga began at the Wilmington Yoga Center in 2010 when she attended a free yoga day to explore exactly what this practice involved and to find a physical replacement for high school sports. From then on, she wanted to learn and share the holistic aspects of this practice with friends, family, and anyone who wished to learn more about yoga. She has attended hot yoga classes in Japan and unofficially led classes for fellow travelers while journeying through Asia. The power of yoga to unite people across all different cultures and walks of life is perhaps the most inspiring element to her teaching style and personal practice.
Allison is currently involved with the mentorship program at Wilmington Yoga Center under the tutelage of senior instructors. She teaches Basic Flow classes and often subs other classes whilst working towards her 500-hour certification.